Time to rock your international eCommerce
What a bumpy ride full of surprises we have been through lately!
Planning ahead has proven to be significantly more challenging. Agility, speed and expertise have become more important than ever in order to maintain existing sales channels and develop new ones.
We met with more than 100 brands over the last 12 months from startups to QoQa partners and to big multinational groups. All those direct interactions made us realize that some big brands indeed have highly sophisticated needs and problematics to solve with their ecommerce but for most of them, they just needed a strong and efficient setup with the appropriate strategic and operational expertise.
Many brands we met have a very strong image and are well known internationally but until now they have only been working with distributors and retailers. Going direct-to-customer brings a lot of new challenges for which most brands are not equipped yet.
At sQale, we strongly believe in the potential of these brands, therefore we have been working hard to put in place better partnership opportunities. Today, we are proud to announce a simplified offering focused on laying strong foundations for brands to succeed in the long run, one step a time. Brands now have a partner able to help them sell abroad easily and in no time.
3 Pillars for success
Brands can leverage (1) a strong technical platform to build their online store with (2) a network of warehouses, payment solutions, local entities to process every order, and (3) a team of more than 300+ experts to strengthen theirstrategy and the development of their online store.
Much more than a technical solution, sQale provides an entire distribution channel, from the first click to the final delivery. Brands benefits from an optimized setup and mutualized costs to easily manage multiple markets and expand internationally while maintaining operating costs low and efficient.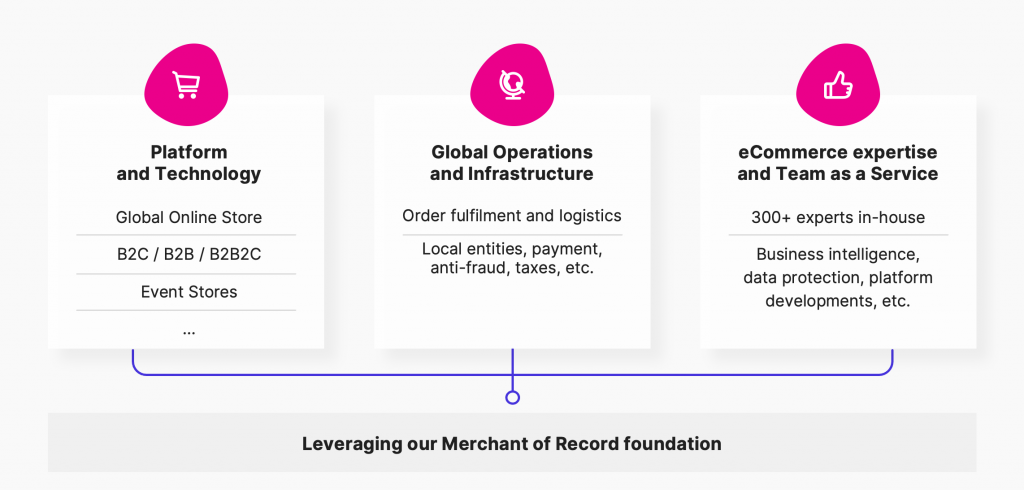 sQale offers an efficient solution to develop your international ecommerce with a simple revenue share model and the right team on your side. Brands have a partnership where incentives and profits are shared – ensuring the most appropriate setup, strategy, and experts to achieve their ambitions.